Strategic focus
Strategic focus
This section provides an overview of the areas of focus for the RCMP over the coming three to five years. Each priority is backed by a variety of specific programs, projects or activities that will support the achievement of the stated priority.
On this page
Our Culture
Achieving a modern, trusted and inclusive RCMP
Advancing positive culture change is at the core of the RCMP modernization mandate. Culture is not any one thing, but rather the sum of how we act as an organization; it is how people are treated, the way we manage operations, how we interact with communities, and the approach we take to decision-making.
Understanding and changing an organization's culture is a long-term endeavour requiring attention on multiple fronts, including the advancement of the RCMP as a diverse and inclusive employer, and expanding the use of Gender-based Analysis Plus (GBA+) throughout the organization. GBA+ ensures the routine consideration of how diverse groups of people will experience RCMP policies and services.
A decade of reviews identified challenges in RCMP culture linked to experiences of harassment and discrimination. Much of the focus centred on necessary changes to the harassment resolution regime. But as reports also noted, culture change requires addressing root causes – changing the organizational norms that create the foundation for how people are treated and how decisions are made, at all levels.
Some of the highest-priority activities to be completed pertaining to Our Culture are:
Introduce mandatory anti-racism training for managers and employees
Renew the RCMP core values and produce an organizational values statement
Establish an intra-departmental GBA+ network
Complete a survey and inventory of the RCMP culture
Priorities for Our Culture
Advance the RCMP's position as an equitable, diverse and inclusive workplace
This priority moves the RCMP beyond compliance with statutory diversity obligations to a holistically inclusive work environment where employees feel valued and respected, and are able to contribute to their full potential, regardless of gender, ethnicity, disability, sexual orientation, age or any other personal attribute.
Address and prevent issues of workplace violence and harassment
Addressing the RCMP's efforts in developing strategies, policies and processes to prevent harassment and bullying is very important. This priority works to prevent and respond to behaviours that are offensive or potentially harmful to ensure safe interactions among all workplace stakeholders.
Expand the use of Gender - based Analysis Plus (GBA+)
To understand how diverse groups of women, men and non-binary people may be affected by policies, programs and initiatives, the RCMP will expand the use of GBA+. The RCMP will consider the many identity factors - like race, ethnicity, religion, age, and mental or physical disability - in the decision-making process.
Our People
Building a healthy, diverse and professional workforce
Fulfilling the RCMP's mandate requires the recruitment and retention of a healthy, diverse, engaged and resilient workforce. This means modernizing how we attract and assess applicants, and taking a proactive approach to ensuring employee wellness, including addressing rates of post-traumatic stress disorder (PTSD) and suicide.
While revising the approach to bringing in new, top talent will be crucial, investing in our current roster of personnel will have the greatest overall impact. Modernizing the RCMP's learning and development function, and transforming the leadership development model will ensure our people are best prepared to excel in their roles.
The People Strategy outlines the overarching approach to support Vision150 and the RCMP's HR modernization objectives. It weaves together several initiatives to realize a proactive, client-centred approach to HR and People Management. While the People Strategy has HR service delivery as a key focus, it also has effects across the RCMP as it includes a roadmap for preparing the organization for the workforce of the future, and is intended to act as the umbrella for the wide range of transformative work ongoing and planned for modernizing people management.
Some of the highest-priority activities to be completed pertaining to Our People are:
Implement the RCMP people strategy
Modernize RCMP leadership including advancing character leadership
Action the equity, diversity and inclusion strategy
Leverage diverse civilian expertise in criminal investigations
RCMP People Strategy
The RCMP defined a People Strategy that follows the Vision150 framework and outlines the need for substantive changes to the organization's workforce composition, as well as its HR service delivery model in order to optimize support to RCMP operations in Canada and internationally.
The Our People section of this Strategic Plan is reflective of the People Strategy, which documents the overarching vision for human resources modernization and includes a concrete action plan to achieve transformation in three areas:
Shaping the workforce of the future
Modernization of HR approaches and the HR service delivery model
Investment in core programs and systems to improve client and service delivery
See the RCMP's People Strategy for more information.
Priorities for Our People
Modernize RCMP leadership including advancing character leadership
Paramount to the long-term success of the RCMP is a focus on providing training and professional development aimed at improving job performance, leadership and sensitivity to biases, enabled by technology and development processes.
Develop and implement mental health and wellbeing strategy
The RCMP is working to mitigate the physical and psychological stressors that are inherent in police work, while fostering a culture that promotes Mental Health and Wellbeing.
Modernize recruitment and HR service delivery models
A focus for the organization over the next five years will be demonstrating to current staff and potential recruits that the RCMP is an employer of choice through efforts that retain and attract skilled staff.
Our Stewardship
Supporting a well-functioning organization through effective governance and evidence-based decision-making
In the nearly 150 years of serving Canada, the RCMP has built a reputation for excellence in operations and the ability to mobilize and deliver services quickly and effectively; however, overall governance has not kept up with modern best practices to support evidence-based decision-making, strategic priority setting, accountability and performance measurement.
The RCMP is striving to enhance governance through increased management expertise, tiered decision-making, a streamlined organizational structure, and leveraging outside expertise on management and modernization. Increasing transparency and accountability will be key factors in increasing public trust.
As part of the RCMP's commitment to transparency, the RCMP now discloses information on police intervention, and on calls for service including mental health and wellness calls, and RCMP employee diversity statistics.
Some of the highest-priority activities to be completed pertaining to Our Stewardship are:
Deploy an Enterprise Geospatial Information System (EGIS)
Modernize the RCMP Information Management (IM) program
Transform the Annual Performance Planning System and planning process
Continue to leverage external expert advice including from academia and the Management Advisory Board and our Contract Management Committee
Continue to develop and implement the Insider Threat Program
Priorities for Our Stewardship
Enable effective use of evidence-based decision-making
The RCMP will support the decisionmaking process for operations, programs, practices and policies with use of factual evidence and intelligence from the field.
Transform fundamental business technology
The RCMP will enhance business processes through the application of data, technology and information to achieve organizational goals.
Increase operational effectiveness through modern governance practices and increased accountability
The RCMP will improve corporate operations to support long-term planning and life-cycle management, structured budget allocations and strengthened governance practices to better meet organizational mandates.
Our Policing Services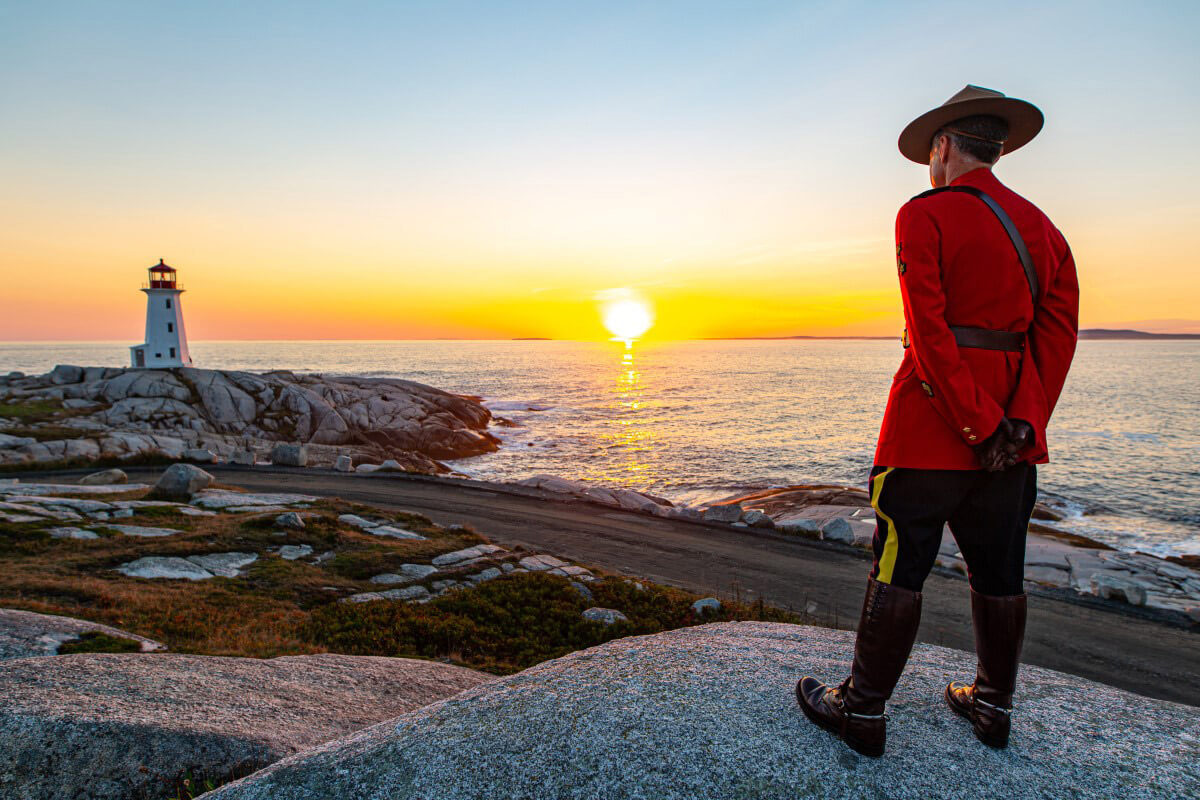 Keeping Canada safe through leading-edge policing
The RCMP plays a unique and multi-faceted role at the municipal, provincial/territorial, national and international levels. Our success relies on strong partnerships with diverse communities, governments and partner agencies to ensure coordinated and effective service delivery to address local priorities.
As the threat environment constantly evolves and crime becomes borderless, the organization must continually adapt and work to equip personnel with the tools they need to perform their duties safely and effectively.
Being ready to respond to large-scale planned and unplanned events is a hallmark of the RCMP. Recent examples include the 2018 G7 Summit in Charlevoix, major forest fires in British Columbia and flooding in the Saint John River Valley. RCMP personnel have demonstrated this readiness in recent years. More recently, the RCMP's preparedness and flexibility has been demonstrated during the global COVID-19 pandemic.
Technology is at the core of modern policing. This means ensuring the RCMP has the skills and capabilities to detect, prevent and disrupt cyber threats, transnational crime and threats to national security. It also means leveraging technology to better connect to partners, communities and the front-line.
Some of the highest-priority activities to be completed pertaining to Our Policing Services are:
Update the RCMP's crisis intervention and de-escalation tools and training
Execute the Digital Policing Strategy
Support greater integration with community, health, and social service agencies
Implement national and divisional reconciliation strategies and the Missing and Murdered Indigenous Women and Girls (MMIWG) calls for justice
Implement business solutions to modernize the Automated Criminal Intelligence Information System (ACIIS)
Procure and evaluate a rapid DNA instrument
Reconciliation and the RCMP
Reconciliation with Indigenous Peoples, including the over 1,900 Indigenous RCMP employees, is of vital importance for the RCMP. From the creation of the Northwest Mounted Police in 1873, the history of the RCMP and the role it played in colonization has been interwoven with First Nation, Inuit and Métis peoples.
Rooted in trust, reconciliation is a long-term commitment and requires a community driven approach, anchored in truth-telling, and guided by the principle "nothing about us, without us". Activities to promote healing, relationship building, and trust align with the Truth and Reconciliation Commission Calls for Action and the Inquiry on Missing and Murdered Indigenous Women and Girls Calls for Justice. Engagement and key actions in support of reconciliation include:
Developing national and divisional reconciliation strategies to strengthen trust and transparency
Partnering with Indigenous women's groups to raise awareness and prevent violence against women and girls
Increasing RCMP referrals to restorative justice to address the harm caused by crime
Creating an office for RCMP-Indigenous collaboration, co-development and accountability as a place to collaboratively identify solutions to policing issues in Indigenous communities
Priorities for Our Policing Services
Address issues of trust
The RCMP will address issues of public confidence and the requirement for increased accountability. Openness and transparency will foster trust and respect for policing efforts and increase community cooperation.
Modernize operational tools and technologies
The RCMP will supply new technology and equipment to support front-line officers in the conduct of their duties. The RCMP will pursue modernization through selection of hardware, software and other policing technology solutions.
Increase community integration and partnership
The RCMP will partner with community-based organizations to find local solutions to prevent crime and victimization. The focus will be to advance reconciliation, increase community safety and reduce crime through community level partnerships and by leveraging local leadership.
Enhance collaboration with key partners to improve investigative effectiveness
The RCMP will enhance collaboration and information sharing with partners through advances in technology and process improvements. These advancements will enable better investigative capabilities for all stakeholders.
Date modified: