RCX18

RCX12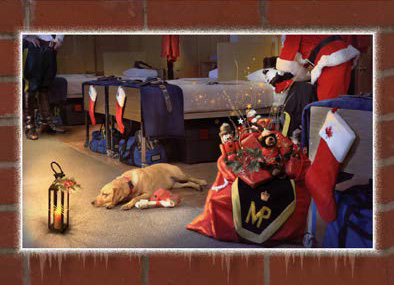 RCX16

RCX17
The bilingual cards say "Season's Greetings and Best Wishes" and "Meilleurs vœux pour la saison des Fêtes."
A package of 12 identical cards, which includes taxes and delivery, costs:
Alberta and the territories: $15.75
British Columbia: $16.80
Manitoba: $16.80
Nova Scotia: $17.25
Ontario, Newfoundland & Labrador and New Brunswick: $16.95
Prince Edward Island: $17.10
Quebec: $17.25
Saskatchewan: $16.50
Orders Outside Canada: $15
Orders exempt from GST and HST: $15
(If exempt, please provide your exemption number).
Orders of 10 dozen or more: $12, plus applicable taxes.
Place your order today by mail:
The Quarterly
1 Sandridge Road,
Box 8900
Ottawa, ON K1G 3J2
Fax: (613) 993-4353
Telephone: (613) 993-3738
Toll-free: 1-877-215-3469
E-mail: chantal.renaud@rcmp-grc.gc.ca
Payment can be made by VISA, Mastercard, cheque, money order or by requesting an invoice. Cheques and money orders should be made payable to the Quarterly.
Each year, the Quarterly donates the profits from the sale of these Christmas cards to one or more of the following beneficiaries – the RCMP Veterans' Association, the Associations' Divisions, the Association's Benefit Trust Fund and registered Canadian charities.