Racing Against drugs is a community based drug and alcohol awareness program developed in partnership by the The Royal Canadian Mounted Police- London Detachment, the staff and students of Saunders Secondary School in London, Ontario, The Whitlock/Abby Ford Quality Care racing team, and the Ford Motor Company Motor Company of Canada, Limited.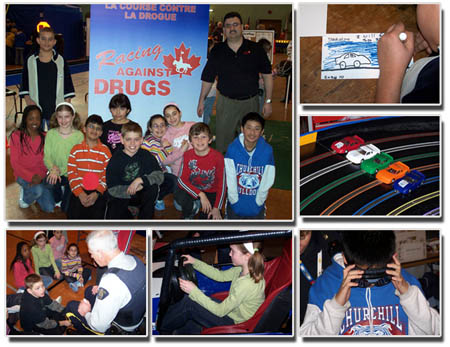 The primary objective of this drug education initiative is to utilize the sport of auto racing to capture the attention of young people and communicate with them, through an exciting and high profile sport - one with no tolerance for substance abuse. Racing Against Drugs is designed to promote healthy, drug free lifestyles and to allow Grade 5 and 6 children the opportunity to experience the excitement of racing by competing on a professionally built 1:24 scale slot car tracks.
Racing Against Drugs is not open to the general public or visitors. For further information about RAD please contact your local RCMP detachment or Cpl. Patricia Reid, RCMP "O" Division Drugs and Organized Crime Awareness Service Coordinator of the Racing Against Drugs Program at: (519) 645-3893.