The RCMP Auxiliary Constable Program was first introduced in 1963 to enhance community policing and crime prevention initiatives.
Today, approximately 1,600 Auxiliary Constables nation-wide. These men and women dedicate countless hours to their communities and to the detachments they support. The RCMP Auxiliary Constable Program offers specially trained volunteers the opportunity to contribute to their communities with experience they acquire from volunteering with the police.
Frequently Asked Questions
How does one apply to become an Auxiliary Constable?
Interested applicants must complete an RCMP Volunteer Application Form and submit it to their nearest detachment. In some locations, there may be a competitive process to be admitted into the program. Those interested can contact the RCMP province or territory where they reside. Please specify that you are looking for a RCMP Volunteer Application Form.
Nunavut (no program)
Ontario (no program)
Quebec (no program)
General information about the application process.
The RCMP will perform an enhanced security clearance process on eligible candidates;
The application process may take up to six months;
Most detachments are looking for a minimum of a two-year commitment;
All RCMP Auxiliary Constables must complete a comprehensive training program before being admitted into the program. This training is designed to prepare applicants for their volunteer activities;
RCMP Auxiliary Constables may be required to volunteer a minimum number of hours per month to meet the current standard of 160 hours per year.
What are the requirements to be considered an RCMP Auxiliary Constable?
To be considered an RCMP Auxiliary Constable, a candidate must:
Be at least 19 years of age,
Have a mature and responsible attitude,
Be a Canadian citizen of good character,
Have successfully completed high school or attain equivalent work-related experience
Possess a valid driver's license,
Have no business or employment that may cause a conflict of interest
Possess current certification in standard-level first aid qualifications including CPR and maintain these standards through re-certification as required.
Some detachments may have additional requirements based on local needs.
What is an RCMP Auxiliary Constable?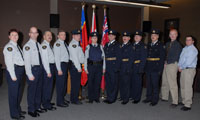 An Auxiliary Constable is an unarmed, unpaid, uniformed RCMP volunteer whose activities are governed under provincial legislation. RCMP Auxiliary Constables may have peace officer or equivalent status, in accordance to their provincial or territorial statutes.
What is the role of an RCMP Auxiliary Constable?
Auxiliary Constables promote community-based policing by participating in community events and assisting RCMP Regular Members with some of their general duties.
Under the supervision of an RCMP Regular Member , Auxiliary Constables participate in RCMP supported community events and programs, crime prevention initiatives within schools, traffic control, ground patrols, search and rescue, parades and other ceremonial events.
Some activities for Auxiliary Constables depend on the geographical region of the detachment. For example, some Auxiliary Constables may assist with marine or ground activities.
Every effort is made to link the skills of the RCMP volunteer with the volunteer tasks they perform.
Auxiliary Constables are a complement -- not an enhancement or supplement to the RCMP Regular Member.
Auxiliary Constables are not employees of the RCMP and do not hold employee status.
Does every province/ territory have an RCMP Auxiliary Constable Program?
No, RCMP Auxiliary Constable Programs are administered within the 10 contract provinces and territories (Newfoundland, New Brunswick, Prince Edward Island, Nova Scotia, Alberta, Manitoba, British Columbia, Saskatchewan, Northwest Territories, and the Yukon), but not in Ontario or Quebec.
Ontario and Quebec residents are encouraged to contact their provincial or municipal police agencies to inquire about their program.
How is the RCMP Auxiliary Constable Program operated?
The RCMP Auxiliary Constable Program is maintained and operated at the provincial or territorial level, as the program is guided by specific provincial legislations or the RCMP Act, and generally funded by the provincial or territorial government and/or the RCMP Division.
General policy guidelines are issued from National Headquarters in Ottawa, but Divisions, in co-operation with the provincial governments, are responsible for organizing and administering the program.
There are 10 Divisional Program Coordinators in each province/ territory and 1 National Coordinator in Ottawa. All Coordinators liaise with one another so that a national standard is maintained.
Are there any personal financial costs associated to joining this program?
Volunteers are not expected to incur any personal costs for participating.The uniforms that RCMP Auxiliary Constables receive are supplied by the RCMP.
Please contact your nearest RCMP detachment for further information regarding the Auxiliary Constable Program